Some Central Sterile Processing Departments have placed instrument count sheets inside wrapped sets and ridged sterilization containers for a long time, so why should we consider moving count sheets outside of surgical sets? Why bother with the change? It's easier to put them inside, right?
Let's think about this from the patient's perspective. Where would YOU prefer count sheets be placed if YOU were the patient, or SOMEONE YOU LOVE was the patient? Would you want that paper count sheet and ink leaning up against instruments that go inside your body? Do you know where the paper and ink have been? You know they haven't been cleaned, right?
Weigh the pros and cons and decide for yourself. Where SHOULD your department place count sheets?
Count Sheets Inside
Pros:
It's easy and we've always done it that way
Count sheet won't get lost inside
Count sheets need to be sterile*
* They actually don't. Check out this excellent resource from IAHCSMM (see Objective 4) https://www.iahcsmm.org/images/Lesson_Plans/CIS_Plans/CIS250.pdf
Cons:
No validation or IFU's for paper or ink. If it goes in the set it needs both.
Ink damage on instruments and containers. It doesn't come off.
Shredded paper fibers can cause foreign body reactions in patients.
Count Sheets Outside
Pros:
Non validated items remain outside of the sterile environment, always
You can verify set contents without opening, therefore instruments remains sterile
Reduced infection risk to patients
Cons:
Extra step in central sterile processing, albeit a very small one
Added cost if using additional external packaging (pennies)
New process and change can be challenging *
* but it doesn't have to be http://www.ghscorp.net/products/count-me-out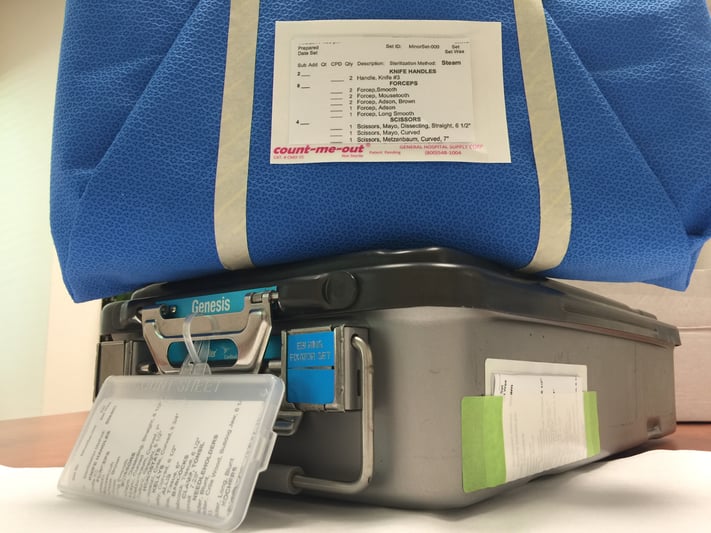 The decision is pretty clear to us. You can COUNT US OUT!
Making the change to outside is easier than ever: http://www.ghscorp.net/products/count-me-out